Are you looking for LIFETIME coverage, or just temporary TERM life?
What's the difference between WHOLE LIFE and TERM LIFE??
WHOLE LIFE is a permanent LIFETIME policy with fixed rates that will never go up. This is usually used to cover FINAL EXPENSES.

No medical exam is usually needed for final expense whole life, no blood test.
ALL health conditions are accepted – even cancer, heart issues, etc. – if you have any serious health conditions YOU CAN NOT BE DENIED COVERAGE but expect to pay a higher premium and expect a "waiting period" before a benefit can be paid, if you currently have some serious health conditions. Ask our underwriters for details. NOT AVAILABLE IN ALL STATES!

TERM LIFE

is temporary coverage for 10, 15, or 20 years with low initial rates (coverage ends after the specific term). New coverage will cost much more after the expiration of the 10, 15 or 20 years, and you'll have to re-apply if you still qualify health-wise. (This is usually used by younger people who have mortgages, young children, etc).

Health screening is more in-depth for a term policy, low benefit amounts may not require a medical exam or blood tests, but you'll have to answer a lot more medical questions than whole life.
Final Expense Whole Life rates: – COVERAGE FOR LIFETIME (to age 121!)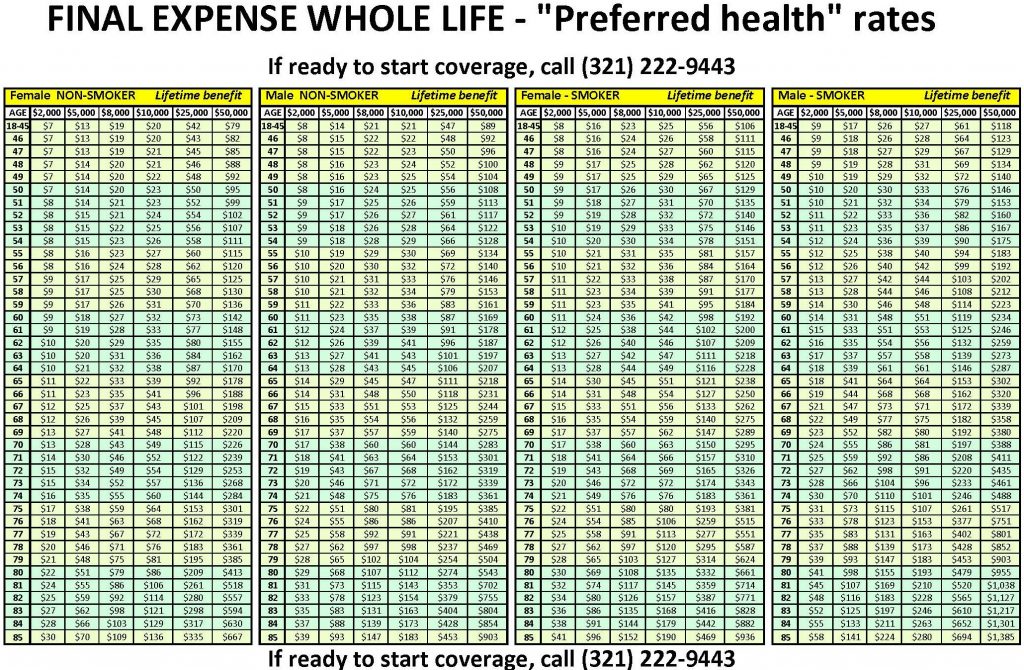 FEMALE, Non-smoker rates
(click to enlarge)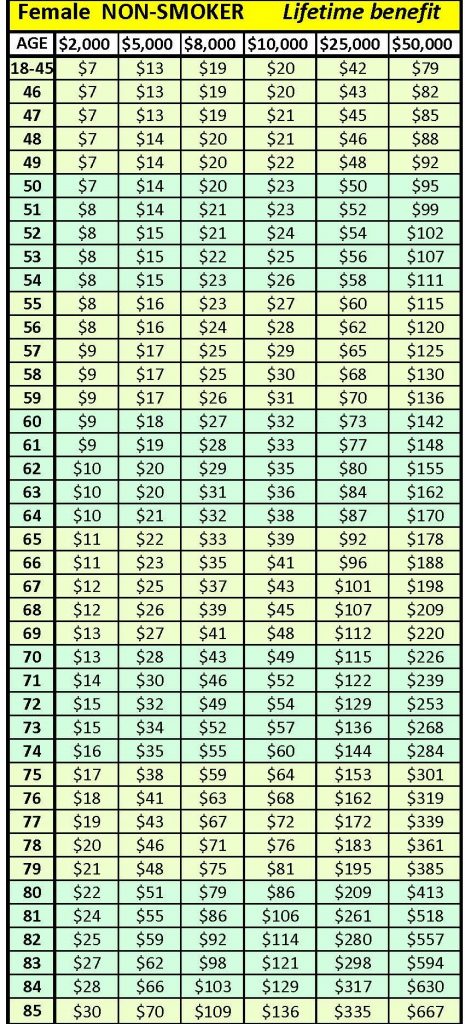 MALE, Non-smoker rates
(click to enlarge)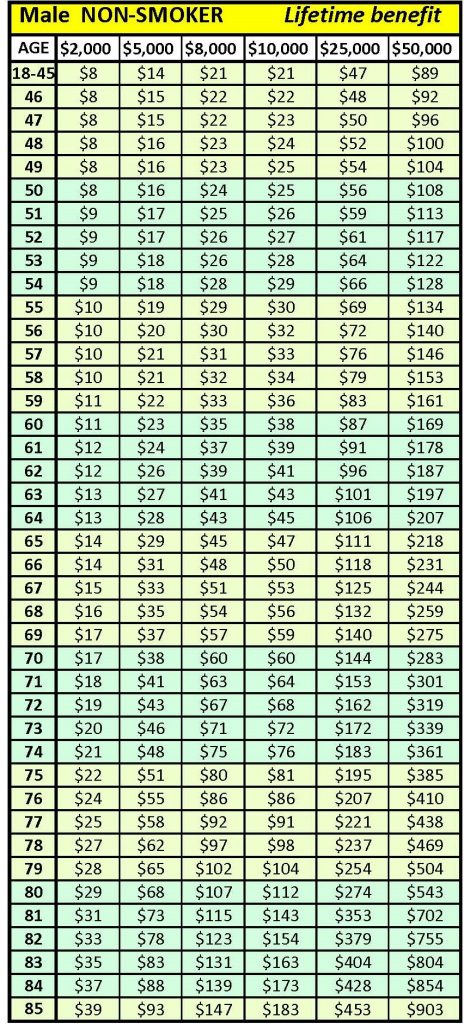 FEMALE, smoker rates
(click to enlarge)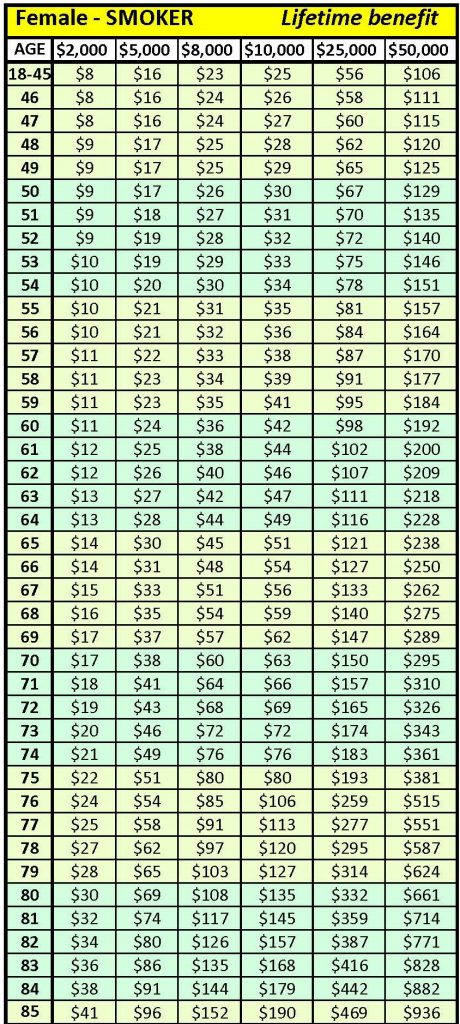 MALE, Smoker rates
(click to enlarge)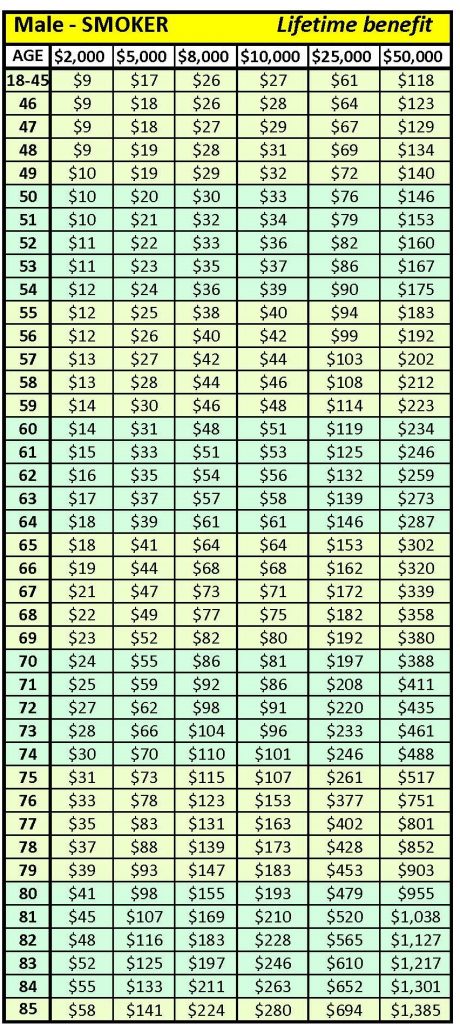 Ready to start coverage?
This is what to expect:
Fill out an application; answer all questions completely.
An underwriter will be in touch to verify the correctness of info submitted.
No medical exam or blood test is needed, but we do verify the medical info with your physician's records.
When approved, you'll receive a policy mailed to you or policy owner/payor.
---
|   LIFE INSURANCE   |   MEDICARE   |   APPLICATION   |   CONTACT   |
Email:CustomerCare@FamilyCareLife.com    Call: FamilyCare 321-222-9443
 Family Care Life for Seniors – National Insurance Brokerage – 4755 9th St N #40, Naples, FL 34103